Hmmmm, what's it called when government owns most of a nation's companies? 
According to Bloomberg News, the Bank of Japan is a top 10 holder in about 90% of all Japanese stocks.
Furthermore, according to Bloomberg News, BOJ now owns 55% of Japan's ETFs ("exchange traded funds").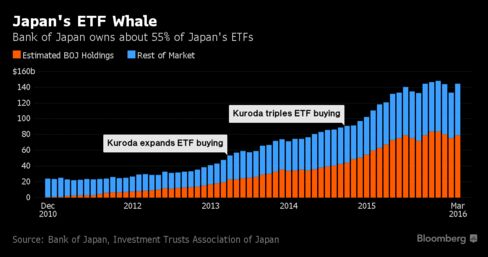 By directly buying ETFs, the BOJ becomes a holder of the underlying stocks.
Crazier still, Goldman predicts the BOJ will soon double its purchases of ETFs. If so, the central bank in Japan could become the No. 1 shareholder in about 40 of the Nikkei 225's companies by the end of 2017.

Keep in mind that the U.S. Federal Reserve, in their heroic efforts to keep the U.S. financial markets from collapsing, is also buying up corporate shares and bonds via their "open market operations."
.
Read the Bloomberg News article here:
While the Bank of Japan's name is nowhere to be found in regulatory filings on major stock investors, the monetary authority's exchange-traded fund purchases have made it a top 10 shareholder in about 90 percent of the Nikkei 225 Stock Average, according to estimates compiled by Bloomberg from public data. It's now a major owner of more Japanese blue-chips than both BlackRock Inc., the world's largest money manager, and Vanguard Group, which oversees more than $3 trillion.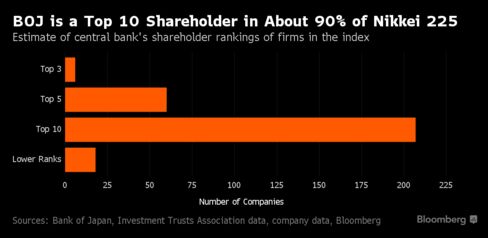 To critics already wary of the central bank's outsized impact on the Japanese bond market, the BOJ's growing influence in stocks risks distorting valuations and undermining efforts to improve corporate governance. Proponents, meanwhile, say the purchases provide a much-needed boost to investor confidence. With the Nikkei 225 down 8.4 percent this year and inflation well below official targets, a majority of analysts surveyed by Bloomberg predict the BOJ will boost its ETF buying — a move that could come as soon as Thursday.
"For those who want shares to go up at any cost, it's absolutely fantastic that the BOJ is buying so much," said Shingo Ide, chief equity strategist at NLI Research Institute in Tokyo. "But this is clearly distorting the sanity of the stock market."
Biggest Holdings
Under the BOJ's current stimulus plan, the central bank buys about 3 trillion yen ($27.2 billion) of ETFs every year. While policy makers don't disclose how those holdings translate into stakes of individual companies, estimates can be gleaned from publicly available central bank records, regulatory filings by companies and ETF managers, and statistics from the Investment Trusts Association of Japan. The BOJ declined to comment on Bloomberg's findings.
The estimates reveal a presence in Japan's top firms that's rivaled by few other big investors, often called "whales" in the industry jargon. The BOJ ranks as a top 10 holder in more than 200 of the Nikkei gauge's 225 companies, effectively controlling about 9 percent of Fast Retailing Co., the operator of Uniqlo stores, and nearly 5 percent of soy sauce maker Kikkoman Corp. It has an estimated shareholder rank of No. 3 in both Yamaha Corp., one of the world's largest makers of musical instruments, and Daiwa House Industry Co., Japan's biggest homebuilder.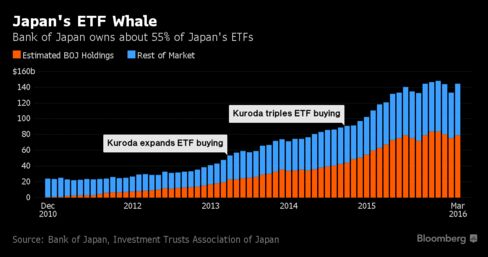 If the BOJ accelerates its ETF purchases this week to an annual rate of 7 trillion yen — the pace predicted by Goldman Sachs Group Inc. — the central bank could become the No. 1 shareholder in about 40 of the Nikkei 225's companies by the end of 2017, according to Bloomberg calculations that assume other major stakeholders keep their positions unchanged. It could hold the top ranking in about 90 firms using HSBC Holdings Plc's estimate of 13 trillion yen.
Concentrated Holdings
"When you see the numbers, you see it's quite a decent holding," said Nader Naeimi, the Sydney-based head of dynamic markets at AMP Capital Investors Ltd., which oversees about $120 billion. "Central banks are becoming big hedge funds."
While the BOJ's ETF buying has come under fire from opposition lawmakers, Governor Haruhiko Kuroda has repeatedly defended the program, saying as recently as last week the purchases aren't big relative to the size of Japan's stock market.
At an estimated 8.6 trillion yen as of March, the BOJ's holdings amount to about 1.6 percent of the total capitalization of all companies listed in Japan. That compares with about 5 percent held by the nation's Government Pension Investment Fund. The central bank's use of large-cap ETFs means its positions are concentrated, with less impact on the thousands of Japanese companies outside benchmark indexes.
Relative Value
State intervention in stock markets has worked out well for some countries. The U.S. government spent $245 billion to prop up banks during the global financial crisis in 2008, earning a profit of about $30 billion on their investments as the industry recovered. At the height of the Asian Financial Crisis in August 1998, Hong Kong bought HK$118 billion ($15.2 billion) of local shares to defend its currency peg, helping to fuel a rally that allowed it to dispose of the entire stake within five years.
In Japan, there's little sign that BOJ share purchases have inflated Japanese valuations to dangerous levels. The Nikkei 225 trades at 16 times estimated earnings for the next 12 months, in line with the MSCI World Index. Over the past five years, the Japanese gauge has fetched an average premium of 14 percent.
Still, the longer the BOJ's buying persists, the bigger the risk that market prices will detach from fundamentals. Assuming Goldman Sachs's prediction for more stimulus proves correct, the central bank could end up owning a quarter of Mitsumi Electric Co., a supplier to Apple Inc., and 21 percent of Fast Retailing by the end of 2017, estimates compiled by Bloomberg show.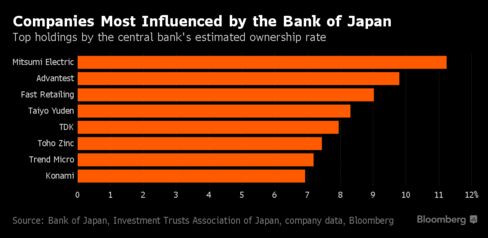 With such large stakes sitting in index-tracking ETFs that lack a mandate to scrutinize company performance, the BOJ's intervention could also hamper attempts to improve Japan's corporate governance, according to Nicholas Benes, representative director of the Board Director Training Institute of Japan.
"The reality of index ETFs is that their commissions are very low and they cannot spend much on engagement or analysis for proxy voting," Benes said.
The central bank said in December that it plans to buy additional ETFs that weigh holdings based on metrics that include research spending and employee wage growth, but it hasn't started those purchases yet because the funds don't exist.
While bulls have cheered the BOJ's efforts to lift share prices, the central bank is bound to reverse its intervention at some point, a potential source of instability that Sumitomo Mitsui Trust Bank Ltd. says is increasingly on the minds of long-term investors.
"Of course, you can argue that we're in abnormal times so we have abnormal measures," said Ayako Sera, a Tokyo-based market strategist at Sumitomo Mitsui. "The biggest question in the future will be: What happens when the BOJ exits?"
.
Where Does This Go? 
Goodbye democracy, hello "Socialist Government" . . . 
If an institution is purchasing equities without end,  eventually it will become the complete owner. The real question here becomes, when all the Western Central Banks own ALL of the "markets", what happens then?
Perhaps "propping up markets" is secondary to the central banks' primary goal of buying up and owning EVERY PUBLIC COMPANY IN THE WORLD?
Perhaps this is the method to take a Capitalist powerhouse and transform it into a Communist/Socialist state without firing a shot?
Communism/socialism happens when Government owns the businesses and dictates their demands–enriching the connected elites while impoverishing the masses.
"Give me control of a nation's money supply and I care not who makes it's laws."
"If the American people ever allow private banks to control the issue of their currency, first by inflation, then by deflation, the banks…will deprive the people of all property until their children wake-up homeless on the continent their fathers conquered."
Those old dead guys were pretty smart after all, huh?  Maybe we should, like, study what they had to say, like in school or something.  Nah, that's too hard.  Let's talk about transgender bathrooms instead.
.
Meanwhile, 20 percent of all families in America are completely unemployed. The following comes directly from the Bureau of Labor Statistics…
 In 2015, the share of families with an employed member was 80.3 percent, up by 0.2 percentage point from 2014. The likelihood of having an employed family member rose in 2015 for Black families (from 76.4 percent to 77.7 percent) and for Hispanic families (from 85.9 percent to 86.4 percent). The likelihood for White and Asian families showed little or no change (80.1 percent and 88.6 percent, respectively).
For purposes of this study, families "are classified either as married-couple families or as families maintained by women or men without spouses present" and they include households without children as well as children under the age of 18.
Digging into the numbers, we find that there were a total of 81,410,000 families in America during the 2015 calendar year.
Of that total, 16,060,000 families did not have a single member employed.

Relax, stock markets are up!
.
The Bank for International Settlements
. . . the central bank of the central banks.

Central bank presidents meet at Basel Switzerland once every 2 months on a Sunday evening where the central bankers of the world routinely decide in private what will happen to the world next. Being creators of money they are the ultimate power. They decide who gets the really huge amounts of money and what for.
The Bank for International Settlements home page: http://www.bis.org/
These pages tells some of the most disturbing aspects of the BIS:
.
National Suicide
. . . is not product of any one moment. But instead one bad idea, upon another, upon another and another and another and another and the wheels that move the country began to grind slower and slower; rust covering their once shiny facades. Revolution – cold and angry. Hate, as a political strategy. Law, used to divide and conquer. Regulation used to punish. Elections used to cement dictatorship. Corruption bleeding out the lifeblood in drips, filling the buckets of a successive line of bureaucrats before they are destroyed, only to be replaced time and again. (Source)
.
"We exist, beyond any shadow of any doubt, in an environment of absolute fakery where nothing is real… All of this is being played in a way to keep people believing, once again, that the system is working and will continue to work." (Source)

.
Opt Out
It's right in front of you,
The answers are always so obvious,
But the brainwashing is so heavy… it distorts your perception.
Tired of putting your trust in puppeteers that play with our lives like a game?

Tired of being manipulated by their army of sell-out agents and media slaves? 
Tired of a hand-full of privileged psychopaths making important decisions for us?
Opt out! Boycott the geriatric, genocidal, psychopathic, evil elite.
Withhold consent of their plans for us . . .
I do not consent to government officials and representatives who break the law, who lie about their actions, or who ignore their sworn duty.
.
Be your own being.
Opt out of what is obviously wrong
. . . and lend your energy to what you know is right.

.
Related:
.